HAPPY 10th ANNIVERSARY TO US!!
WE ARE THRILLED TO ANNOUNCE THAT OUR
2016 PRODUCTION WILL BE: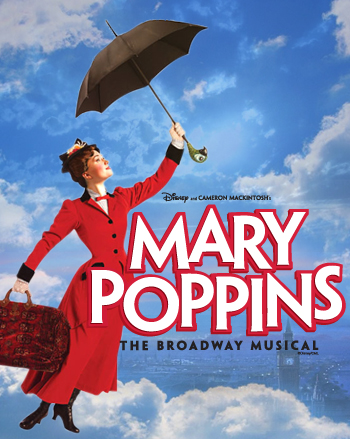 A Musical based on the stories of P.L. Travers
and the Walt Disney Film
Original Music and Lyrics by
Richard M. Sherman and Robert B. Sherman
Book by
Julian Fellowes
New Songs and Additional Music and Lyrics by
George Stiles and Anthony Drewe
Co-Created by
Cameron Mackintosh
Everyone's favorite and practically perfect nanny takes the stage in this supercalifragilisticexpialidocious musical adventure.  Based on the books by P.L. Travers and the classic Walt Disney film, Disney and Cameron Mackintosh's Mary Poppins delighted Broadway audiences for over 2,500 performances and received nominations for nine Olivier and seven Tony Awards, including Best Musical.
The jack-of-all trades, Bert, introduces us to England in 1910 and the troubled Banks family. Young Jane and Michael have sent many a nanny packing before Mary Poppins arrives on their doorstep. Using a combination of magic and common sense, she must teach the family members how to value each other again. Mary Poppins takes the children on many magical and memorable adventures, but Jane and Michael aren't the only ones upon whom she has a profound effect. Even grown-ups can learn a lesson or two from the nanny who advises that "Anything can happen if you let it."
---
AUDITIONS WI
LL TAKE PLACE AT RIPPOWAM MIDDLE SCHOOL, 381 HIGH RIDGE ROAD ON SEPTEMBER 8 & 9TH

TO REGISTER FOR AUDITIONS,  CLICK ON THE LINK IN THE UPPER RIGHT HAND SECTION OF THIS PAGE.
 Please note there is a $150 participation fee for actors and a  $75 for crew to offset the cost of this production. Scholarships are available upon request.
There is a $10 fee for the audition workshop payable upon arrival.

---
THERE WILL BE FIVE PERFORMANCES:
SATURDAY, 12/3 AT 7:30 PM
SUNDAY, 12/4 AT 3:00 PM (FOLLOWED BY A MEET & GREET)
SATURDAY, 12/10 AT 7:30 PM
***ALL PERFORMANCES WILL TAKE PLACE AT WESTHILL HIGH SCHOOL, 125 ROXBURY ROAD, STAMFORD***
---
***SAVE THE DATE FOR OUR 10TH ANNIVERSARY REUNION GALA FOR THOSE INVOLVED IN ANY, ALL, OR SOME OF OUR PRODUCTIONS FROM THE FIRST, DISNEY'S "HIGH SCHOOL MUSICAL" TO THE PRESENT, "MARY POPPINS"!
FRIDAY, 11/25 FROM 6:00-10:00 PM AT THE ITALIAN CENTER - INVITE TO FOLLOW***